Stay Safe Online While Cheering on Team USA
June 26, 2014
As millions of Americans tune in to watch the World Cup and cheer on the U.S. men's national soccer team, it's important to stay vigilant against cyber criminals and hackers who may to try to take advantage of people's enthusiasm to gain access to their information online.
This entry was originally posted on the Blog @ DHS. Read the rest of the blog here.
This Summer, Keep Your Employees Cyber Safe
As a small business, keeping up with the latest competition also involves being sure that you and your employees are cyber-ready.  Not only do small businesses rely on technology to perform daily functions, but the Internet provides easy ways for businesses to stay connected and informed.  However, with these increased conveniences comes increased risk.  According to Symantec, nearly one-third of all cyber-attacks targeted businesses with fewer than 250 employees, the largest growth area for targeted cyber-attacks in 2012. Follow these simple tips from the Department of Homeland Security's Stop.Think.Connect. Campaign to help keep your workplace cyber safe:
Use and regularly update anti-virus and anti-spyware software on all computers; automate patch deployments across your organization to protect against vulnerabilities.
Secure your Internet connection by using a firewall, encrypting information and hiding your Wi-Fi network.
Establish security practices and policies to protect sensitive information; educate employees about cyber threats and how to protect your organization's data and hold them accountable to the Internet security policies and procedures.
Require that employees use strong passwords and regularly change them.
Invest in data loss protection software for your network and use encryption technologies to protect data in transit.
Protect all pages on your public-facing websites, not just the checkout and sign-up pages.
Consumers are taking notice of how businesses secure their data and are more willing to trust and reward businesses for good security practices.  With cyber criminals now targeting small businesses more than ever before, it's important to remind consumers that your business is cyber safe by following the above tips.
Keeping Kids Safe Online
Summer fun has begun! While the kids are home and enjoying the sun, don't forget that June is Internet Safety Month. This summer, the Stop.Think.Connect. Campaign is encouraging parents to take a few minutes to talk with their children about Internet safety. While increased connectivity has led to significant transformations and advances across our country – and around the world – it also has increased our shared risk. For children, this includes cyber bullying, cyber predators, and other threats. Parents, teachers, and guardians can take steps to protect children online by creating an open environment where children feel comfortable reporting abuses over the Internet. The Stop.Think.Connect.Campaign encourages adults to:
Be aware of what social networks your kids and teens use and how much information they share. They should never share addresses, birthdays, schools, and last names with strangers;
Teach your kids how to conduct searches safely by using specific and narrow search terms on commonly-used search engines to prevent unwanted and malicious results;
Install filters and firewalls to manage what sites your kids can access;
Set strong passwords that are different on every site; and
Remind your children not to say anything online about someone else that they would not want said about them. 
At the end of the day, cybersecurity is ultimately about people and is a shared responsibility. We are all called on to ACT -- Achieve Cybersecurity Together.
Flat Stanley Now Helping Kids Stay Safe Online
For additional information, please click here.
During the Season of Giving, Don't Give Out Your Personal Information
From smartphones and tablets to gaming systems and e-readers, this year's holiday wish lists are more wired than ever. Many of us will immediately load photos, user accounts, and other personal data onto our new gadgets, eager to enjoy them.
However, if you are giving or receiving the newest tech toys this holiday season, don't forget to secure new devices from cybercriminals on the hunt for personal information. Smartphones, tablets, and other electronics are now as powerful and functional as many computers. Therefore is important to protect those devices just like you protect your computer or laptop. The United States Computer Emergency Readiness Team (US-CERT) provides the following tips to safeguard your data: 
Lock your device when you are not using it. Even if you only step away for a few minutes, it's enough time for someone else to steal or destroy your information.
Disconnect your device from the Internet when you aren't using it. The likelihood that attackers or viruses scanning the network for available devices will target you becomes much higher if your device is always connected.
Keep software up to date. Install software patches so that attackers cannot take advantage of known problems or vulnerabilities. Many operating systems offer automatic updates.
Consider creating separate user accounts. If there are multiple people using the device, someone else may accidentally access, modify, or delete your information. If you have the option, create different user accounts for each user and set the access and privileges for each account.
Establish guidelines for usage. If there are multiple people using your device, especially children, make sure they understand how to use the device safely. Setting boundaries and guidelines will help protect your data.
Back up your data. Whether or not you take steps to protect yourself, there will always be a possibility that something will happen to destroy your data. Regularly backing up your data reduces the stress and consequences that result from losing important information. 
For specific information on securing gaming systems, visit the Federal Trade Commission's OnGuard Online. For smartphone security tips, visit the Federal Communication Commission's Smartphone Security Checker, a new resource that demonstrates how you can be safer when using a mobile device.
Stop.Think.Connect.: Lookout for Cyber Monday Scams
Turkey, pumpkin pie, and football aren't the only things that are part of many Americans' Thanksgiving traditions. Deals and bargain prices have also become a part of the holiday season, and more people are going online to find them.
Cyber Monday—the Monday after Thanksgiving—is one of the biggest online shopping days of the year, providing a golden opportunity for scammers and spammers looking to take advantage of unsuspecting online shoppers. On Cyber Monday, hackers may use tactics like preying on popular keyword searches to lure shoppers to malicious websites, with the goal of collecting financial and personal information.
These simple tips can help protect your personal information and transactions on Cyber Monday and throughout the holiday season:
Keep your computer, browser, anti-virus and other critical software up to date.
Only buy from reputable sites and pay attention to URLs. Malicious websites may look similar to a legitimate site, but the URL may use a variation in spelling or a different domain (e.g., .com vs. .net). Also look in the address box for the "s" in https:// before any transaction. That "s" tells you that the site is taking extra measures to help secure your information.
Beware of deals that sound too good to be true. Use caution when opening email attachments and do not follow unsolicited web links in email messages and pay special attention to extremely low prices on hard-to-get items.
Check privacy policies. Before providing personal or financial information, check the website's privacy policy to ensure your safety.
Use a credit card instead of a debit card. There are laws to limit your liability for fraudulent credit card charges, and you may not have the same level of protection when using your debit card.
Keep a record of your order. Retain all documentation from the order in the event your purchase does not ship or if there are unauthorized charges on your bill.
Check your statements. Keep a record of your purchases and copies of confirmation pages, and compare them to your bank statements. If there is a discrepancy, report it immediately.
DHS Announces Stop.Think.Connect. Campaign Partnership with the National Crime Prevention Council
The Department of Homeland Security's (DHS) Stop.Think.Connect. Campaign announced a new partnership with the National Crime Prevention Council (NCPC), which seeks to reduce crime by helping citizens work with law enforcement to promote cybersecurity awareness and online safety.  The campaign will provide NCPC with tools and resources to educate teens, young adults and parents about how youth can protect themselves from the risk of theft, fraud and abuse online.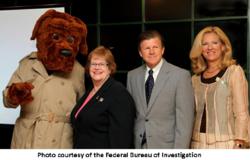 Pictured in the photo from left to right, the iconic McGruff the Crime Dog, Ann M. Harkins, President and CEO of NCPC, Michael Kortan, Assistant Director of the FBI Office of Public Affairs, and Suzanne Spaulding, DHS Deputy Under Secretary, National Protection and Programs Directorate, were keynotes and special guests at the event.  
"Cybersecurity is a shared responsibility, and everyone must play their part," said Secretary Napolitano. "Through partnerships like this one, and initiatives like National Cybersecurity Awareness Month, the Department is reaching out to audiences of all ages on the role each of us plays in securing cyberspace."
"In today's technology-driven world we share so much personal information about our lives in 140 characters or less that we often fail to see how it can put us at risk," said NCPC President and CEO Ann M. Harkins. "Partnering with the Department of Homeland Security on cybersecurity awareness is the perfect complement to National Crime Prevention Month, which NCPC celebrates every October, asking every citizen to renew or join the commitment to help Take A Bite Out Of Crime®."
Stop.Think.Connect.is a national public awareness effort to guide the nation to a higher level of Internet safety and security by educating and empowering the American public to be more vigilant about practicing safe online habits. The campaign encourages Americans to view Internet safety and security as a shared responsibility at home, in the workplace, and in our communities.
NCPC was founded in 1982 with the goal of reducing crime by helping citizens work with law enforcement. Using a train-the-trainer model, NCPC has trained thousands of crime prevention practitioners and allies, including law enforcement personnel, educators, parents, youth, local and state government officials, and community leaders, to help them help their communities reduce crime.
This new partnership continues the Stop.Think.Connect. Campaign's ongoing outreach to the nation's youth and organizations that serve them. Recently, DHS announced partnerships with Drug Abuse Resistance Education (D.A.R.E.) America and Boys & Girls Clubs of America. 
For additional information on NCPC, please click here. To read more about the event, click here.
Stop.Think.Connect. Encourages You to ACT for National Cyber Security Awareness Month this October
Every day, we are more and more interconnected. We rely on the Internet for all of our day-to-day needs as it allows us to stay connected, informed, and involved. However, this increased connectivity brings increased risk of theft, fraud, and abuse - making cybersecurity one of our country's most important national security priorities.
In recognition of the importance of cybersecurity awareness, President Obama designated October 2012 as National Cyber Security Awareness Month (NCSAM) as a reminder that being safer and more secure online is a shared responsibility. In other words, we should always ensure that our information and critical infrastructures remain secure and reliable for everyone.
Throughout NCSAM and beyond, you're invited to join the DHS Stop.Think.Connect. Campaign to take part and ACT - Achieve Cybersecurity Together - to ensure everyone understands their role in safeguarding and securing cyberspace, recognizes how to protect themselves and their online interests, and knows who to contact if compromised online.
Here are a few simple things businesses, schools, and home users can do to practice cybersecurity during National Cyber Security Awareness Month and throughout the year:
Find or register a local National Cyber Security Awareness Month event.
Show your organization's commitment to cybersecurity by signing the online endorsement form and becoming a National Cyber Security Awareness Month Champion.
Download tip sheets on how to stay safer in a variety of online settings: on social networking sites, on gaming sites, on your mobile device, and distribute them within your community.
Participate in the NCSA's Cyber Security Awareness Volunteer Education (C-SAVE) Program and help educate elementary, middle, and high school students about Internet safety and security.
Add a signature block to your e-mail: "October is National Cyber Security Awareness Month. Stay Safe Online! Visit www.staysafeonline.org for the latest cybersecurity tips."
For more information on NCSAM, click here.
Are You Cyber Ready? Stop.Think.Connect. Commemorates National Preparedness Month
Think about this - what would you do if you received a suspicious email from a friend that only included a link? Would you click on it?  What would your spouse, children, friends, or colleagues do? Phishing attacks are only one of the many complex cyber threats we face every time we go online regardless of whether we are at home, at work, or on the go. As technology advances, so do the techniques cybercriminals use to gain access to our computer networks. 
To commemorate National Preparedness Month, Americans all over the country are preparing for the unexpected fire, hurricane, tornado or man-made disasters. While the devastating effects on individuals, families, and communities caused from a natural or man-made disaster are easy to see, it is much more difficult to understand the impact of a sluggish computer infected with malware or viruses.
Unlike physical threats that prompt immediate action – like stop, drop, and roll in the event of a fire – cyber threats are often difficult to identify and comprehend. However, they can be just as dangerous. Cyber preparedness can be as simple as setting up the proper controls such as the ones listed below to increase your chances of avoiding cyber risks:  
Only connect to the Internet over secure, password- protected networks.
Do not respond to online requests for personal information; most organizations – banks, universities, companies, etc. – do not ask for your personal information over the Internet.
Limit who you are sharing information with by reviewing the privacy settings on your social media accounts.
Trust your gut; if you think an offer is too good to be true, then it probably is.
Do not use the same password twice; choose a password that means something to you and you only; change your passwords on a regular basis.
Click here for more tips and guidance from www.Ready.gov on how to prepare in the event of a cyber-attack. If you feel you've been a victim of a malware attack, phishing scheme, or another cybercrime, contact your local law enforcement or the Federal Trade Commission at www.ftc.gov/complaint.
Stop.Think.Connect. Partners with the Girl Scouts of USA
The U.S. Department of Homeland Security announced on August 22, 2012 during the Atlanta Cyber Tour that the Girl Scouts of the USA organization has joined the Stop.Think.Connect. Campaign's National Network, forming a new partnership which will promote cybersecurity awareness to over 3.2 million youth across the country.
The Campaign will provide the Girl Scouts with tools and resources to help raise awareness among kids, teens, and young adults about emerging online threats and the importance of cybersecurity. This partnership builds on the Campaign's efforts to highlight curriculum resources available to communities, as well as to promote cyber awareness and educate America's youth about safer online practices.
"Cyber education is crucial for preparing future generations for the ever-changing cyber world," said Secretary Napolitano. "With the help of Girl Scouts of the USA, the Campaign has an opportunity to broaden cybersecurity awareness to millions of American youth engaged with the Girl Scouts program."
"This collaboration between Girl Scouts and The U.S. Department of Homeland Security will empower girls to become leaders and advocates for the safe and responsible use of technology," explains Anna Maria Chávez, Chief Executive Officer of the Girl Scouts of the USA. "We know that girls are online. As adults, it is our responsibility to create an environment that encourages girls to establish healthy online habits."
Girl Scouts of the USA was founded in 1912 with the goal of bringing girls out of isolated home environments and into community service.  Through enriching experiences, such as field trips, sports skill-building clinics, community service projects, cultural exchanges, and environmental stewardships, Girl Scouts seeks to grow courageous and strong young women.
For additional information on Girl Scouts of the USA please click here.
Last Published Date:
July 31, 2014